1 Day Budget Rwanda Gorilla Trek & Tour in 2021-Volcanoes National Park
The 1 Day Budget Rwanda Gorilla Trekking Tour 2021 takes you on Budget Rwanda Gorilla Trekking in Volcanoes National Park Ruhengeri District.
Volcanoes National Park is located in Ruhengeri District with various groups of Mountain Gorillas which are watched in Rwanda by travelers. The Park inhabits the prominent Mountain Gorillas which can be tracked after obtaining a valid Gorilla Trekking permit that costs US $1500 per person interested.
How to Obtain A Gorilla Trekking Permit in Rwanda
Gorilla Trekking Permits in Rwanda to Volcanoes National Park are obtained through contacting the Rwanda Development Board directly or reaching a travel specialist of Cheap Rwanda Safaris to book you one to use before the D Date of tracking the Mountain Gorillas in their thick forest vegetation habitat.
Detailed Itinerary of the 1 DaymRwanda Gorilla Trekking Tour
The 1 Day Budget Rwanda Gorilla Trekking Tour starts at the Kigali International Airport, where you are picked up by a company driver guide who transfers you to enjoy Gorilla Trekking in Volcanoes National Park.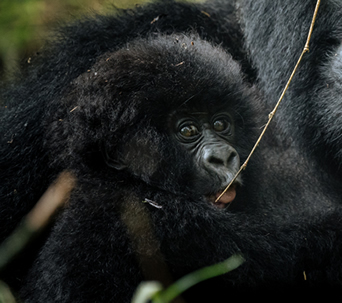 You transfer to the Park Headquarters in Kinigi for briefing on the Dos and Don'ts around the Mountain Gorillas then later in groups of 8 with a skilled park ranger guide,
penetrate the green forest vegetation to track the rare species of Mountain Gorillas for 3-5 hours.
En-route the trails, watch vervet monkeys and birds. Take numerous photos of the Mountain Gorillas then return to the Kigali International Airport to board your flight back home.
The1 Day Rwanda Gorilla Trekking Tour

I

ncludes
Ground transportation
Gorilla Trekking Permit at US $1500
Lunch
Professional English speaking guide
The 1 Day Rwanda Gorilla Trekking Tour

 Ex

cludes
Airfares
Visa
Tipping fees to locals and porters
Laundry
Cigarettes
Luxury drinks
Route Map of the 1 Day Rwanda Gorilla Trek