How much does a Safari Cost in Rwanda- Day by Day Prices 2023
How much does a Safari Cost in Rwanda, Day by Day Prices 2023 of a safari in Rwanda. How much does a Safari Cost in Rwanda as you go Gorilla Trekking at Volcanoes National Park, Wildlife Safari at Akagera National Park, Chimpanzee Tracking at Nyungwe Forest National Park.
Judging how a Safari should cost in Rwanda depends on the safari adventure you prefer to do in Rwanda as a solo traveler or with friends and family. In Rwanda you can engage in safaris like Mountain Gorilla Trekking at the stunning forested Volcanoes National Park, Chimpanzee tracking at Nyungwe Forest National Park and Wildlife watching/ safaris at Akagera National Park.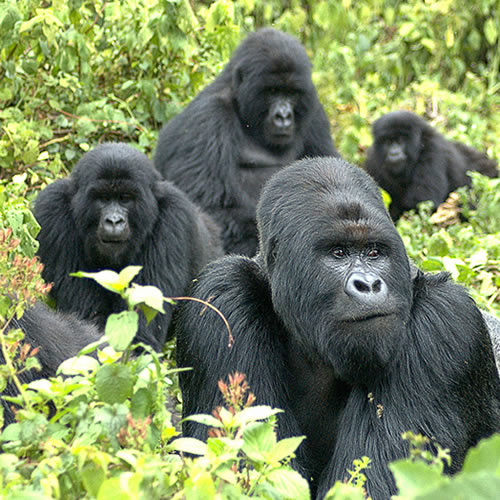 If you are interested in Gorilla Trekking Adventures in Rwanda, the cost of you safari increases due to the fact that the Gorilla Trekking Permit will cost you US $1500 per person interested in trekking the Gorillas. This includes; Accommodation fees, transport fees, Foods and Drinks fees, other expenditures hence the fares is high.
Other than Gorilla Trekking, you can engage in Chimpanzee Tracking, Golden Monkey tracking, Wildlife Safaris as well as Hiking and Mountain Volcano Hiking Adventures in the Volcanoes National Park where you hike the beautiful Mount Bisoke Volcano, Mount Gahinga Volcano, Mount Karisimbi Volcano, Mount Muhavura Volcano etc.
You can as well as visit the stunning Dian Fossey Tomb and karisoke Research Center and Ellen De Generes Dian Fossey Gorilla Fund Foundation located a few kilometers off the vast green Volcanoes National Park.
A Safari in Rwanda costs around US $6,000 to US $7,000 per person as you enjoy adventuring the various safaris while Gorilla Trekking, Chimpanzee tracking, Wildlife safaris, Golden Monkey Tracking in Rwanda.
How much does it cost to see gorillas in Rwanda
In Rwanda, Mountain Gorillas can be watched at US $1500 per person interested in watching these amazing Gorillas in their natural vegetation habitat. This is obtained from the Rwanda Development Board or an authentic Tour Operator Agency.
Is Uganda or Rwanda better for Gorilla Trekking
Gorilla Trekking in Uganda or Rwanda depends on the preferences of the traveler as well as the budget and schedule.
Uganda is known to offer remarkable Gorilla Trekking Tours to all at Bwindi Impenetrable Forest National Park where you enter the thick forest vegetation of Bwindi to track the Gorillas for -5 hours hence an experience so exciting, challenging but very worth taking. Gorillas can also be tracked at Mgahinga National Park where you track the Nyakagezi Gorilla Group. The Gorilla Trekking Permit in Uganda is US $700 per person interested.
In Rwanda Gorilla Trekking is carried at Volcanoes National Park Ruhengeri District and the Gorilla Trekking Permit costs US $1500 per person.
Gorilla Trekking is better in Uganda as this is more cost friendly and the experience is exceptional since you juggle through the thick forest of Bwindi tracking the Gorillas where as in Rwanda some Gorilla families are just too close making the whole adventure so chill and not exciting due to less challenges.
Is Gorilla Trekking worth the money in Rwanda
Yes Gorilla Trekking is worth the money in Rwanda's Volcanoes National Park due to the fact that you MUST watch the Gorillas in their natural forest vegetation habitat
How Do I Plan a Mountain Gorilla Trek?
Planning a mountain gorilla trek involves a lot of details. You will need to decide which parks to visit, get permits, reserve lodgings, and arrange transportation and guides. We recommend you contact an authentic Tour Operator Agency (Cheap Rwanda Safaris) to plan this ahead for they can book you the Gorilla Trekking Permits to enable you track the Mountain Gorillas in Rwanda.
How Do Mountain Gorilla Treks Protect Threatened Species?
Gorilla Trekking permits prevent stress on Mountain Gorillas by limiting the number of humans moving through the parks hence regulating interactions with mountain gorillas in their natural forest habitat. These policies create an environment where mountain gorillas can carry out their lives in a way that is natural for them.
Gorilla trek guides provide important information for conservation, including population numbers and observations about gorilla behavior.
What is a Mountain Gorilla Trek?
A mountain gorilla trek is a guided hike through foothills and higher-altitude forest in search of a habituated mountain gorilla family.
The Mountain Gorilla Trek involves transferring in the forest for 3-5 hours in search for the Gorillas for they are fond of sleeping in a different place every night and travel throughout the day, pausing occasionally to eat and rest.
Once your group catches up with the mountain gorilla family, you spend about one hour observing them. Family groups range from about eight to forty individuals, so you will have a lot to watch!
What Time of Year Should I Go?
Mountain gorilla trekking can occur year-round. When to go is determined by your schedule and personal preferences about weather. However the Best Time to Visit Volcanoes National Park Rwanda for Gorilla trekking is during from mid-May to mid-October during the long dry season which is perfect for watching the Gorillas in their natural forest habitat.