Akagera National Park: (Budget) Wildlife Safaris in Rwanda 2022
Akagera National Park: enjoy (Budget) Wildlife Safaris in Rwanda at Akagera National Park Rwanda. Akagera National Park: (Budget) Wildlife Safaris in Rwanda are the Best Safaris to do with friends and family.
Akagera National Park (French: Parc National de l'Akagera) covers 1,200 km² in eastern Rwanda, against the Tanzanian border.
It was founded in 1934 to protect animals and vegetation in three eco-regions: savannah, mountain and swamp.
The park is named for the Kagera River which flows along its eastern boundary feeding into several lakes the largest of which is Lake Ihema.
The complex system of lakes and linking papyrus swamps makes up over 1/3 of the park and is the largest protected wetland in central Africa
Much of the savannah area of the park was settled in the late 1990s by former refugees returning after the end of the Rwandan Civil War. Due to land shortages, in 1997 the western boundary was re-gazetted and much of the land allocated as farms to returning refugees.
The park was reduced in size from over 2,500 km² to its current size. Although much of the best savannah grazing land is now outside the park boundaries, what remains of Akagera is some of the most diverse and scenic landscape in Africa.
In 2009 the Rwanda Development Board (RDB) and the African Parks Network entered into a 20 year renewable agreement for the joint management of Akagera.
The Akagera Management Company was formed in 2010 as the joint management body for Akagera National Park.
Over the next 5 years a US$10 million expenditure is planned for Akagera including the construction of a 120 km western boundary fence and the reintroduction of lion and black rhino.
Safari Activities to do in Akagera National Park
Game Drives
Akagera National Park is a profound National Park in Rwanda offering remarkable Wildlife Safaris to all travelers in Rwanda.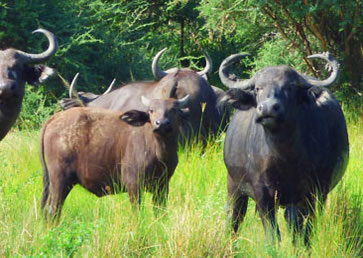 The park has numerous wildlife species that can be seen while on Game Drive in a 4×4 Car that transfers from one place to another with a skilled park ranger guide and these include;  zebras, giraffes, elephants, lions, buffalos, leopards, hyenas, lions. It is home to several antelopes like bushbucks, Topis, Oribis, water-buck, roan antelope and duiker, klipspringer, impala and world largest antelope – the Cape eland. 
Boat Cruise
Boat Cruises in Akagera National Park take place along Lake Ihema where travelers take on cruises watching various wildlife animals along the Shores as well as Hippos and crocodiles beneath the waters. The Cruises are worth taking offering you unforgettable memories to keep.
Sports Fishing
Sports Fishing in Akagera is an exceptional safari activity and this is carried out along Lake Shakani where you catch various species of fish with the Nile perch being the most prominent. All fishing equipment can be hired at the headquarters or anglers can carry their own fishing gear.
Bird Watching
Akagera National Park is also known as a Birder's Paradise to all travelers interested in watching the various bird species in their natural habitat.