Primates and birds
Bwindi National Park is thought to have one of the richest faunal communities in East Africa. There are an estimated 120 mammal species in the park, ten of which are primates, and more than 45 of which are small mammal species. The park is important for the conservation of afro-montane fauna, especially species endemic to the western rift valley's mountains. Along with mountain gorillas, species in the park include the common chimpanzee, L'Hoest's monkey, African elephant, African Green Broadbill, and Cream-banded Swallowtail, black and white Columbus, red-tailed monkeys, vervets, the giant forest hog, and small antelope species. There occur many carnivores, include the side-striped jackal, African golden cat and African civet. The park has more than 350 bird species and more than 200 butterfly species. The fish species in the park's rivers and streams are not well known.
Mountain gorillas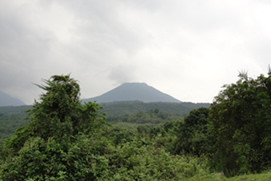 The park is inhabited by a population of about 340 individual mountain gorillas (Gorilla beringei beringei), known as the Bwindi population, which makes up almost half of all the mountain gorillas in the world. The rest of the worldwide mountain gorilla population is in the nearby Virunga National Park. A 2006 census of the mountain gorilla population in the park showed that its numbers had increased modestly from an estimated 300 individuals in 1997 to 320 individuals in 2002 to 340 individuals in 2006 and now 400 species. Disease and habitat loss are the greatest threat to the gorillas. Poaching is also a threat.
Research on the Bwindi population lags behind that of the Virunga National Park population, but some preliminary research on the Bwindi gorilla population has been carried out by Craig Stanford. This research has shown that the Bwindi gorilla's diet is markedly higher in fruit than that of the Virunga population, and that the Bwindi gorillas, even silverbacks, are more likely to climb trees to feed on foliage, fruits, and epiphytes. In some months, Bwindi gorilla diet is very similar to that of Bwindi chimpanzees. It was also found that Bwindi gorillas travel further per day than Virunga gorillas, particularly on days when feeding primarily on fruit than when they are feeding on fibrous foods. Additionally, Bwindi gorillas are much more likely to build their nests in trees, nearly always in Echizogwa, a small understory tree.
Mountain gorillas are an endangered species, with an estimated total population of about 650 individuals. There are no mountain gorillas in captivity. In the 1960s and 1970s, mountain gorillas were captured in order to begin a population of them in captive facilities. No baby gorillas survived in captivity and no mountain gorillas are known of that are currently in captivity.