Kwita Izina Ceremony Rwanda-(Gorilla Naming in September 2023)
kwita Izina Ceremony Rwanda 2023, Name a Mountain Gorilla in Rwanda 2023 at the Kwita Izina Ceremony. kwita Izina Ceremony Rwanda 2023 is your Best Rwanda Safari as you Name a Mountain Gorilla in Rwanda.
Kwita Izina 'Gorilla Naming Ceremony ' 
Kwita Izina Gorilla Naming Ceremony is an amazing ceremony that happens in Rwanda every September annually. The Name given to the Gorillas helps identify them individually by name.
The Kwita Izina Ceremony gets its name from Kwita Izina which refers to naming a baby Gorilla which helps enhance awareness of the conservation of the Gorillas in their natural vegetation habitat.
The newly born baby Gorillas at Volcanoes National Park are named in September when all community members gather to name a new baby Gorilla in that specific Gorilla Trekking family. This offers the new born baby Gorillas a sense of belonging.
This ceremony usually occurs in the Volcanoes National Park in Kinigi Village located in Musanze Province. All these newly born Gorillas are welcomed into their Gorilla Trekking Families.
This Ceremony includes many activities i.e photo exhibition, awarding of medals to the Dian Fossey foundation, cultural traditional dances and entertainment.
You are graced by the presence of the Rwandan president (His Excellence President Paul Kagame).
When does the Gorilla Naming Ceremony in Rwanda Happen
The Kwita Izina Ceremony happens annually and it is enjoyed by important and special guests from all over the globe interested in watching and naming of the new born babies in these Gorilla Trekking Families. This happens in September every year.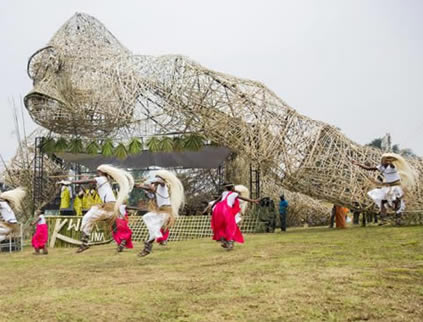 On this ceremony, you are entertained through the beautiful Kinyarwanda traditional dance performed by the locals as they twist their hands and jump uniformly while singing. You also enjoy Drama and different skits that are acted inclusive of the Gorilla Dance hence offering unforgettable memories.
The new born baby Gorillas are brought then baptized a new Gorilla name then later are returned back into their Gorilla Trekking Families. The Kwita Izina Ceremony is held in commemoration and celebration of the world Gorilla Day which was founded by the Dian Fossey Research Center in 1967.
On this Day, the whole world involves in the conservation of the Gorillas in the wild due to the fact that these are endangered. This has enhanced their growth leading to increased populations in the park.
The major objectives of the ceremony include encouraging and thanking communities around the Gorillas, trackers, rangers, conservationists, vet doctors.
The kwita Izina ceremony also aims at monitoring each Gorilla individual in these Gorilla Trekking Families.
It is carried out at the base of the plains of the Virunga ranges which include;  Mount Mgahinga Volcano, Mount Muhavura Volcano, Mount Sabinyo Volcano, Mount Bisoke Volcano, Mount Karisimbi Volcano.  While here, view the other peaks in Congo too.